The LION MINTS PROGRAM is a time-tested and proven fundraising project for Lions Clubs throughout the world. Lion Mints provide visibility for your Club throughout your community. The Lions emblem certifies that the Lion Mints Program is an official Lions Club fundraising activity. Our quality products project a positive image of your Lions Club year around.
Is your Lions Club in Mint Condition? Are you visible in your Community?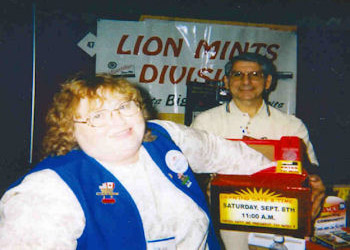 Lions Clubs of Michigan District 10 Past District Governors Sara Doubledee and Mike Kobasic draw the winners of the Lion Mints Raffle at the 31st Annual USA/Canada Lions Leadership Forum in Grand Rapids, Michigan.